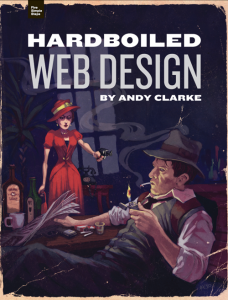 It's our very first Pagebreak Podcast CONTEST! YAY! We both loved Hardboiled Web Design by Andy Clarke and now you have a chance to win a PDF copy of the book! If you have listened to Episode #5, you already know what's what — But here are the details…
Step 1: Follow @pagebreakpdcst on Twitter!
Step 2: Tweet out a message to your followers letting them know about our show and Episode #5 on Hardboiled Web Design, tag the tweet with #PBPFTW and viola!
Example Tweets:
Check out Pagebreak Podcasts review of Hardboiled Web Design http://bit.ly/fal69u #PBPFTW

I'm listening to @pagebreakpdcst talk about CSS3/HTML5 and Hardboiled Web Design http://bit.ly/fal69u#PBPFTW
OMG! Best Podcast ever in life! #PBPFTW Hardboiled Web Design! Listen now or regret it for all time! http://bit.ly/fal69u
…or get creative, people! Just follow the rules above — you can send a tweet once per day until Friday, January 21st. We will choose a winner at random and announce their victory in Episode #6! We release a new edition of Pagebreak every Wednesday, so make sure to subscribe to our podcast feed via RSS or iTunes so that you can be sure to not miss a thing!